← Back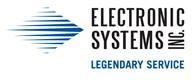 Partner
PARTNER DIRECTORY
Electronic Systems, Inc.
63298
Design/Development/Manufacturing
---
About this partner
Electronic Systems, Inc. (ESI) provides a full range of electronics manufacturing services to leading original equipment manufacturers (OEMs). For over 35 years our customers have trusted us to help them improve their product quality and costs. We currently serve companies in the industrial, agricultural, commercial, medical, energy and HVAC industries. Our legacy of Legendary Service is based on a simple, 5-point formula: serve the customer first, focus on long-term relationships, lean manufacturing expertise, a culture of empowered associates, and financial strength.
---
Related news